Hulsta is a renowned German furniture brand known for its high-quality craftsmanship, innovative designs, and contemporary aesthetics. The company was founded in 1940 and has since become a prominent player in the furniture industry.
Hulsta offers a wide range of furniture for various living spaces, including bedrooms, living rooms, dining rooms, and home offices. Their product lineup includes beds, wardrobes, cabinets, sideboards, tables, chairs, and other complementary pieces.
Hulsta beds are often characterised by clean lines, sleek designs, and attention to detail. We talked to our interior designers about their favourite Hulsta beds, and here's what we found out:
1 – Neo – Best Minimalistic Bed
The Neo bed is characterised by its innovative use of space. It is designed to give the room a sense of weightlessness, with finely crafted frames that appear to float above lacquered or wooden fronts. The frames are available in chrome-plated or anthracite lacquer, and the RAL colour system offers a wide range of options to create unique and exciting combinations. Using different materials, such as glass, wood, lacquer, and ceramics, adds to the room's overall aesthetic, creating a cohesive and visually stunning design.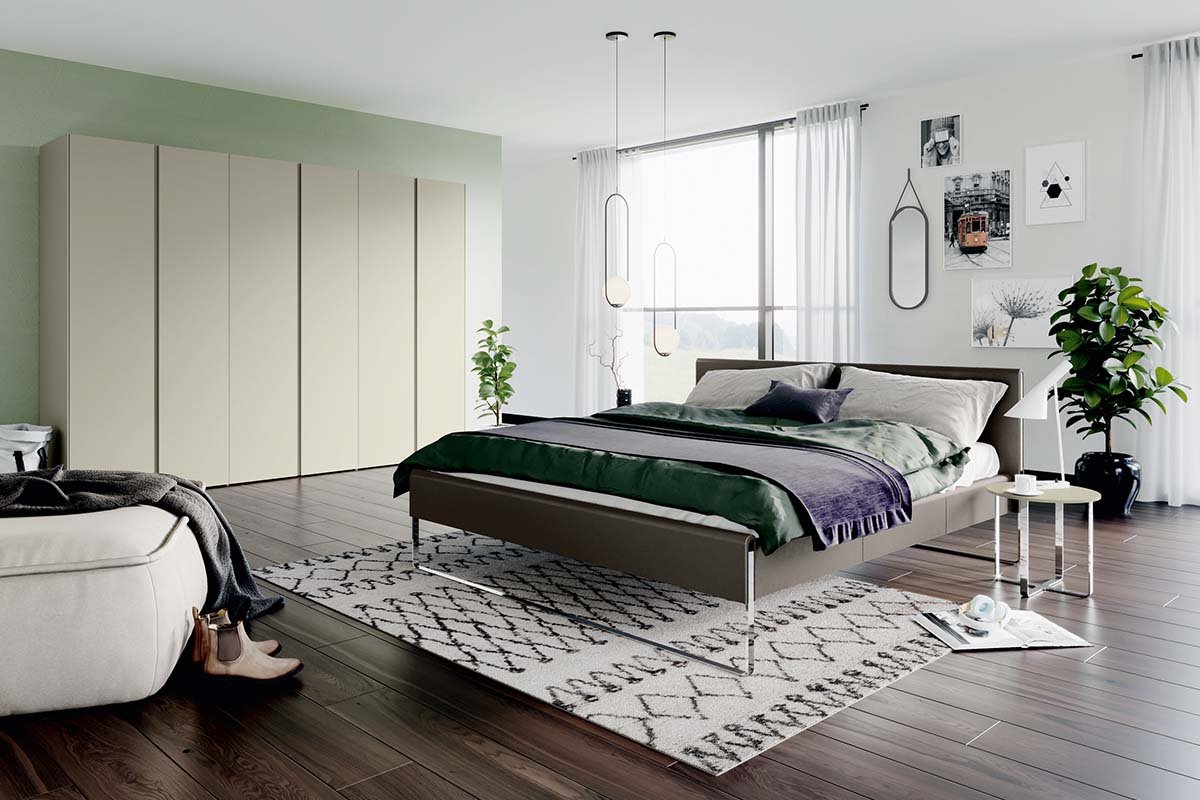 2 – Pulso – Best Wooden Bed
Wood has a warm and inviting quality that brings a touch of nature into the bedroom. The grains, patterns, and textures of different wood species add visual interest and create a unique and organic look. Each piece of wood has its own distinct characteristics, making each wooden bed truly one-of-a-kind.
Available in pure white lacquer or natural oak, this bed offers a serene escape from the chaos of daily life. With its minimalist design, it is a luxurious addition to any home.
At a comfortable height of 47 cm, getting in and out of this bed is effortlessly easy, making it a popular choice for seniors (here's our guide on the best mattresses for seniors). The bed frame features subtle curves and an elliptical headboard, adding to its elegance. The bed also includes customisable indirect lighting to create the perfect bedroom ambience.
So, lie down, take a deep breath, and let Pulso rejuvenate your mind and body.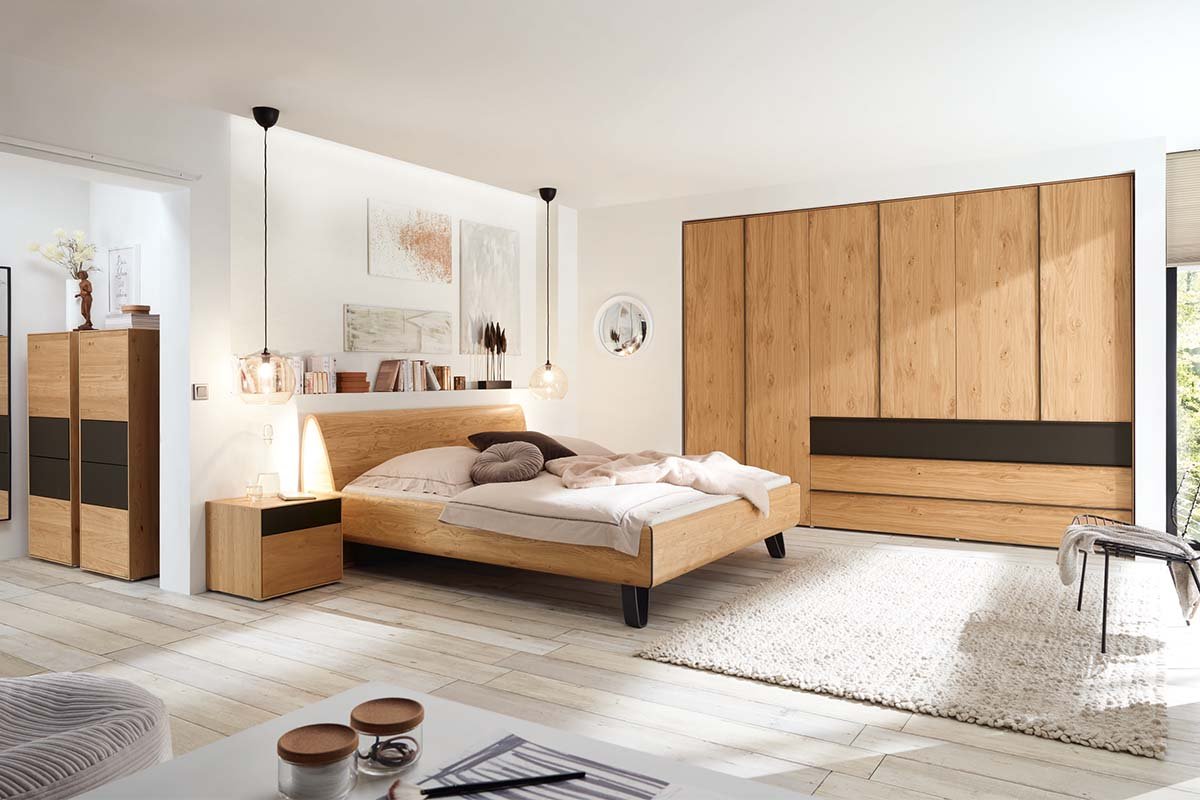 3 – BC 230 – Best Box Spring Bed
A box spring bed, also known as a box spring mattress or simply a box spring, is a type of bed foundation that is designed to support a mattress. It typically consists of a sturdy wooden frame that contains a network of metal springs or coils. The box spring is placed on top of a bed frame or directly on the floor, and the mattress is then placed on top of the box spring.
The main purpose of a box spring is to provide additional support and height to the mattress. The springs or coils within the box spring absorb and distribute the weight of the sleeper, helping to relieve pressure points and provide a more comfortable sleeping surface. In addition, the box spring helps to extend the lifespan of the mattress by reducing wear and tear.
The BC230 is our favourite box spring bed by Hulsta because of its unmatched level of comfort and stunning design. It is indeed the perfect combination of comfort and style. The headboard is luxuriously padded, making it the perfect spot for reading, watching TV, or simply leaning back and relaxing after a long day.
The classic square quilting adds a touch of elegance to the design, while the buttoned detailing creates a warm and inviting atmosphere. With a wide range of cover fabrics and sizes to choose from, you can customise your bed to suit your personal style, needs and preferences.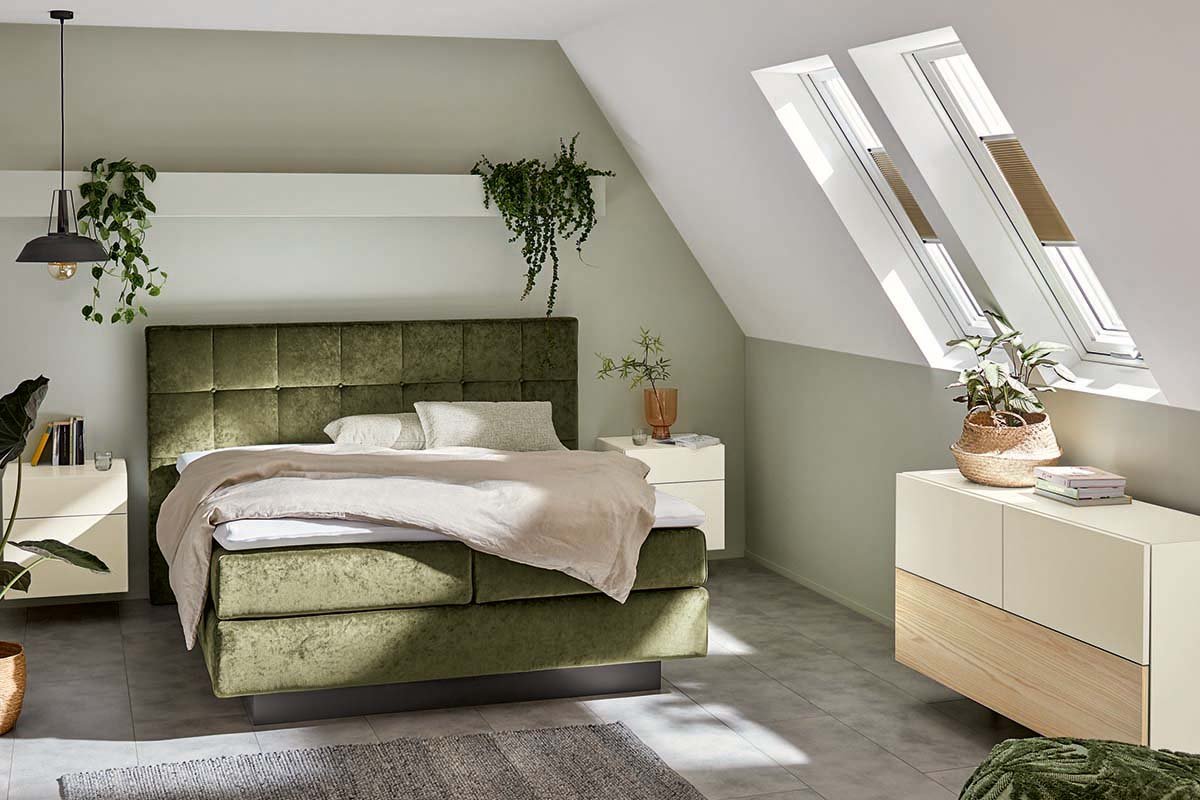 4 – Amana – Best Upholstered Bed
The Amana bed boasts a luxurious, curved upholstery that furniture experts refer to as "cambered." Its comfortable entry height is immediately noticeable, making it an inviting addition to any bedroom. The upholstered headboard comes in two different heights, allowing you to customize your bed to your liking.
For a consistent and soft look, the fully upholstered option is the perfect choice. A variety of fabrics with a natural look and feel are available, including a fine bouclé fabric that pairs beautifully with a bed frame in natural oak or a super-matt surface in one of Amana's natural colours.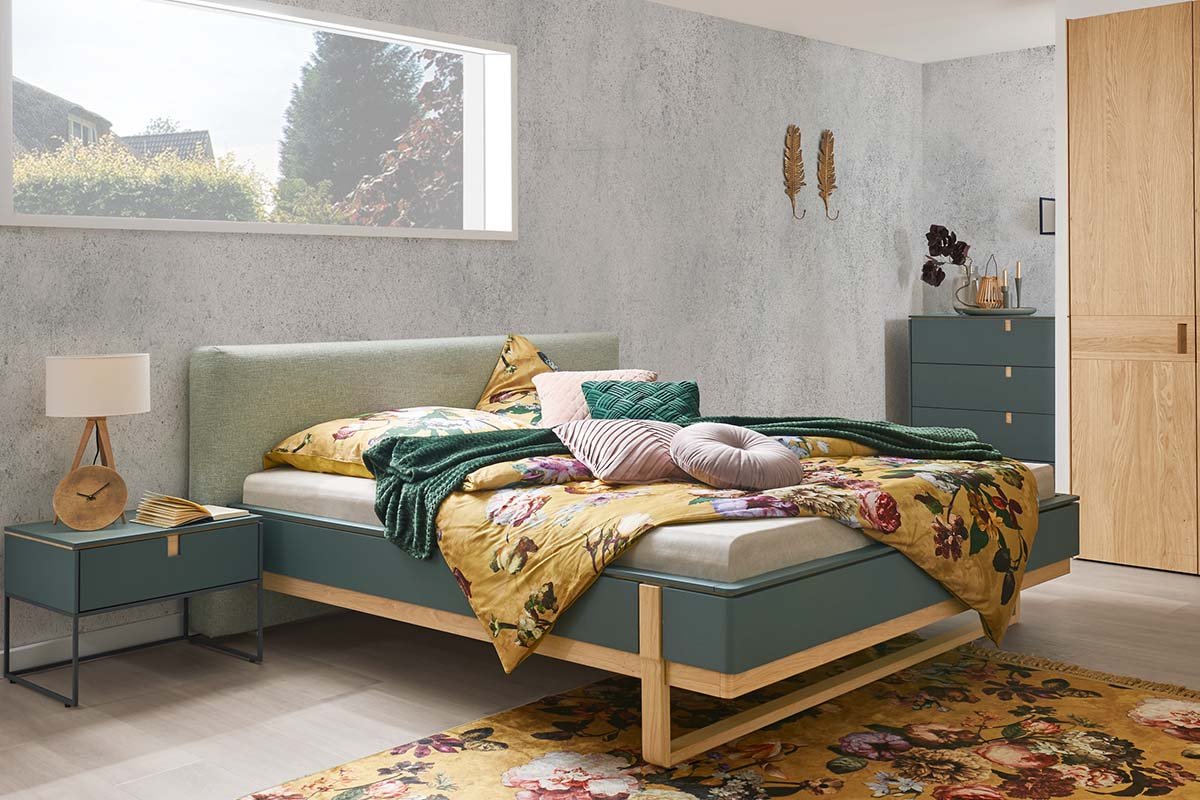 5 – Metis – Best Black Bed
Black is often associated with sophistication, elegance, and a modern aesthetic. A black bed can add a touch of luxury and create a stylish focal point in the bedroom. It can complement various interior design styles, including contemporary, minimalist, and industrial.
Metis is a super matt black bed that is designed for ultimate comfort and convenience. With an integrated LED reading light, you can enjoy a good book before bed without disturbing your partner. The headboard cushions are adjustable to your preferred height, and the ambient light creates a relaxing atmosphere.
Plus, the bed's ergonomic sleeping system and comfortable height make getting up in the morning just as easy as falling asleep at night. With a great night's sleep, you'll wake up feeling refreshed and ready to take on the day.
6 – Dream – Best Bed with Hanging Side Table
Hanging side tables have been all over our Instagram feeds lately, which is why we, too, have been obsessing over the beautiful Dream bed and its hanging side table that offers enough storage space to store everything important.
This bed is also a great choice for those who want a wardrobe in their bedroom as you can order it with a 4, 5 or 6-door wardrobe.
For many of us, the perfect way to unwind after a long day is to curl up with a good book in a comfortable bed. With Dream Bed's ergonomically designed headboard, complete with imitation leather piping and hidden LED lighting, you can enjoy a relaxing reading experience like never before.
So why not treat yourself to the ultimate in comfort and relaxation with a cosy bed that's designed to help you unwind and recharge?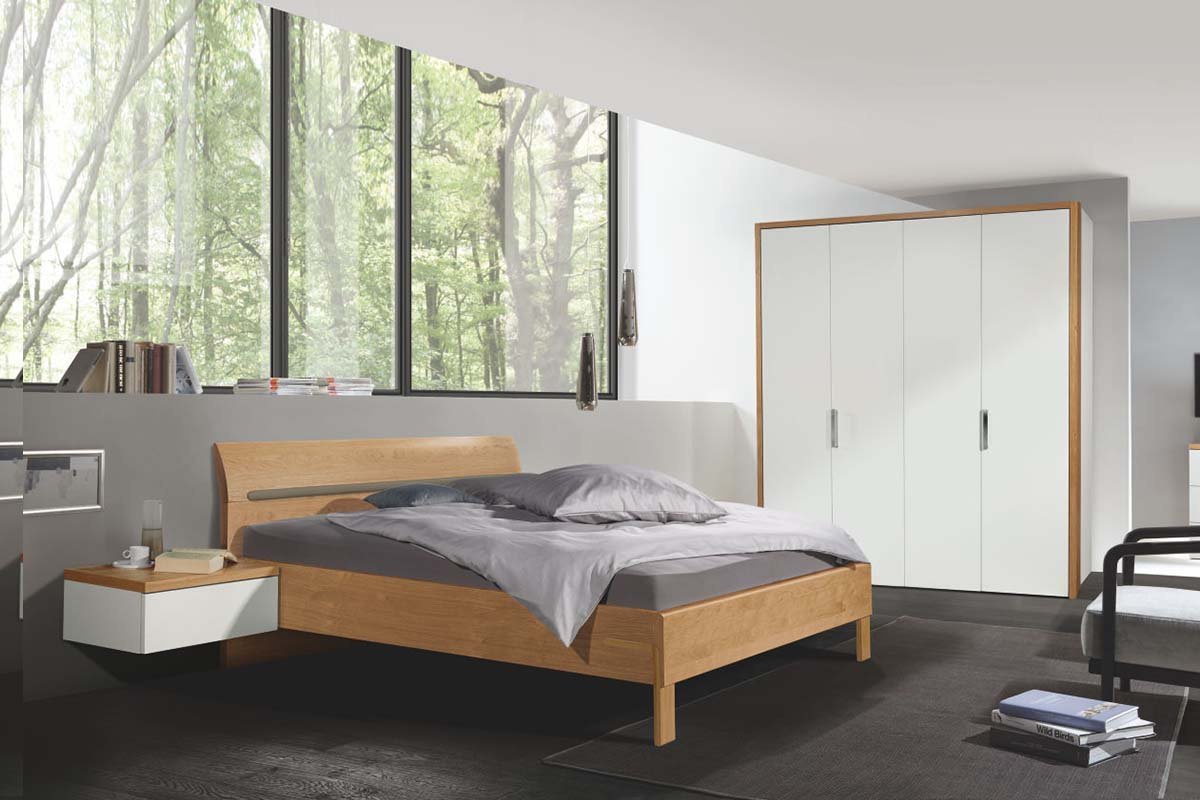 Summing Up
Hulsta offers a range of beds designed and manufactured in Germany for an unmatched sleeping experience. The beds are not just immensely comfortable and cleverly designed, but their aesthetics are also spot on, especially for contemporary and modern spaces.
If you're interested in buying any of the above beds or if you would just like to know more about Hulsta's bedroom range, just get in touch, and our expert interior designers will be happy to help you create your dream bedroom.